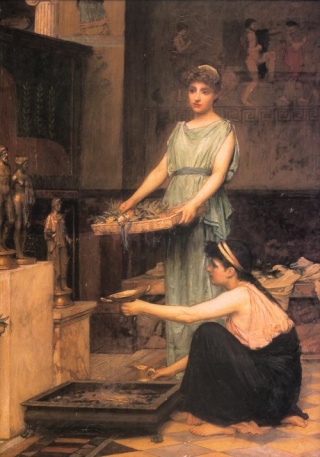 Basics of Shrine Worship
Absolute, bare-minimum essentials:
- candle/lamp (at least 1)
- saucer (metal or glazed ceramic, must be watertight)
- censer
- matches (wooden stick matches are most useful, for reasons I'll explain)
Recommended/useful:
- cruet or decanter jug
- additional plate/saucer for material/food offerings
- bowl for water
-
small bell
to signal prayer
- image(s) of Gods
- candle snuffer
Setting up a shrine for everyday devotions:
I. Location
1. Ideally, the spot should be situated so you are facing east when in front of the shrine. Historically, most temples and outdoor altars were situated so that the worshipper faced east.
2. The site should be in a place where it can remain permanently fixed, but also a place where there is as little danger as possible of damage; it should be away from places where things may be knocked over, and should be on a surface that is very stable.
3. Depending on the layout of the room, a shrine should be at a height where it is level with the upper part of your body or above when either standing or kneeling before it. One should not be looking down at it.
II. Setup
1. If there are cult images, they are placed in the center of view. Otherwise, the flame can serve as a representative of the cult deity(s).
2. The saucer(s) and censer, to receive offerings and incense, respectively, are placed in front of the cult image.
3. Candles can be placed to the sides of the central image(s) if there is one. It is not necessary to have more than one candle, but one on each side is nice and symmetrical, and two candles are used in Orphic religion to symbolize the two basic substances of the cosmos, the Continuous and the Divisible.
Additional Points:
- If a flame is not permitted where you are (for safety reasons, many dormitories prohibit open flames), one can purchase electric candles at most home-goods and craft stores.
- It is not necessary to purchase an expensive 'incense burner'. Everything necessary should be easily available at any home-goods and/or craft store. Egg-cups filled with sand make perfectly suitable censers, and a small sauce bowl works perfectly to receive libations. The small ewers/creamers sold for coffee or tea sets are specially made for pouring liquid; these are ideal, as such, for libation.
- Wooden matches are ideal for religious use, because they can be used not only for lighting the flame, but also for consecrating the water used for lustration before prayer.
- There should never be anything placed within a foot or so above a burning candle.
- Ideally, a shrine should enjoy its own small table or wall-shelf/niche. Home-goods stores usually sell such tables rather cheaply, and many have a drawer or built-in shelf which can hold matches, unused incense, hymn books, etc.
- Keep it clean and neat; keep there only the things that are necessary for worship.
- A shrine is different from an altar. An altar is an outdoor platform used for burning offerings. A shrine is a place for everyday devotions.
_______
Things to keep in mind:
- Amazon and eBay are excellent resources
- You can build many things quite easily from balsa wood

_________________
"O Best of Gods, blest daimon crown'd with fire . . . hear, and from punishment my soul absolve, the punishment incurr'd by pristine guilt, thro' Lethe's darkness and terrene desire: and if for long-extended years I'm doom'd in these drear realms Heav'n's exile to remain, O grant me soon the necessary means to gain that good which solitude confers on souls emerging from the bitter waves of fraudful Hyle's black, impetuous flood!"
-Iulianic Hymn to Apollon-Helios, ll. 65-106

"Having come for punishment, one must be punished. One must not pull apart the god within oneself."
-Iamblichus, Vita Pythagorica

"Truth would you teach, or save a sinking land,
All hear, none aid you, and few understand."
-Alexander Pope

ΗΣΦ

Blog: eusebeis.wordpress.com
The Orphic Way: www.hellenicgods.org
Moderator





Posts

: 928


Join date

: 2013-03-20


Age

: 26




Similar topics
---
Permissions in this forum:
You
cannot
reply to topics in this forum