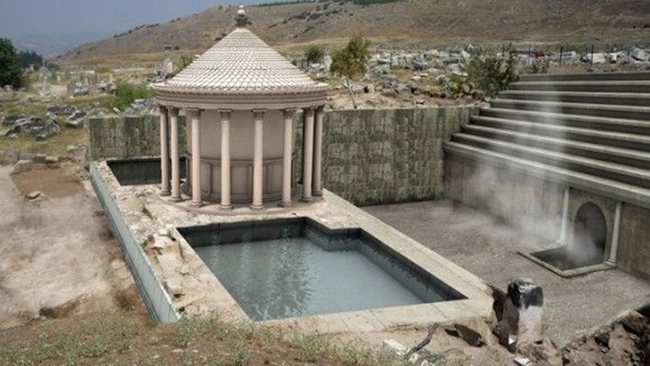 A digital recreation of the Ploutonion, or Plutos Gate, of ancient Greek and Roman mythology
recently discovered in Turkey. Picture: Francesco D'Andria.
Can you imagine what this must have been like?!
Archaeologists have located a Ploutonion in the Hellenistic city of Hierapolis in Turkey. The Ploutonion or Pluto's Gate is an opening in the earth believed to be an entryway to the Underworld - like the one through which Hades took Persephone, or the one Orpheus used to find Eurydice.
"This space is full of a vapor so misty and dense that one can scarcely see the ground. Any animal that passes inside meets instant death. I threw in sparrows and they immediately breathed their last and fell," wrote the Greek geographer Strabo.
The scientists discovered it by retracing an ancient thermal spring and found the opening still releases (potentially) lethal emissions of carbon dioxide, evidenced by the deaths of sparrows attracted to the warmth coming from the opening. They also excavated the remnants of a thermal pool, courtyard and a circular temple and columns with inscriptions dedicated to Pluto and Kore. Pilgrims would have gathered on the steps of the temple while priests stood at the portal and sacrificed bulls to Hades, with both pilgrims and priests alike experiencing visions and prophecies from the hallucinogenic effects of the fumes.
An article and very cool gallery of excavation pics (check out the statue of Hades):
http://news.discovery.com/history/archaeology/gate-to-hell-found-in-turkey-130329.htm

_________________
Επου θεω
"I feel awe of the Gods, I love, I revere, I venerate them"
Sinior Member





Posts

: 136


Join date

: 2013-03-21



It is amazing some of the things that they find now that were believed to be mythological places in the past

Admin





Posts

: 157


Join date

: 2013-01-18


Age

: 22



Beautiful picture! Thank you for sharing.


_________________
"…but now it seems that I alone of all men am bound to be deeply grateful to the ruling gods, to all of them, surely, but above all the rest to the Mother of the Gods. For all things am I grateful to her, and for this among the rest, that she did not disregard me when I wandered as it were in darkness."
-Emperor Julian, Hymn to the Mother of the Gods

"I am a child of Earth and starry Heaven; But my race is of Heaven alone."
-Orphic Tablets
Newbie





Posts

: 16


Join date

: 2013-04-11



Saesara wrote:Beautiful picture! Thank you for sharing.
I agree. My mother actually believes that it's the gateway to hell. I'm laughing my head off thinking about it. My mother really needs to read a book.
Junior Member





Posts

: 38


Join date

: 2013-04-11


Age

: 38




---
Permissions in this forum:
You
cannot
reply to topics in this forum